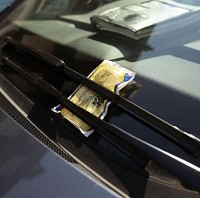 Thousands of drivers in West Yorkshire could qualify for a parking ticket refund.
Almost £500,000 worth of tickets involving around 16,000 cars have been incorrectly issued over the past nine years.
The tickets are invalid because they were handed out by Police Community Support Officers (PCSOs) without the proper authority.
West Yorkshire Police's officials say that motorists have paid a little over £485,000 settling such tickets.
The practice could have been going on for a further three years to 2003, the Force admits. They are currently investigating what the oversight means for drivers.
It could be many weeks before any possible refund process is put into place. A review into PCSO powers uncovered the anomaly in March.
Andy Battle, West Yorkshire Assistant Chief Constable, admits that some of these officers were not properly empowered to dish out non-endorsable parking fines.
The West Yorkshire glitch applies to employees who initially entered the Force through the PCSO route and were eventually sanctioned to give out tickets.
The anomaly does not apply to present employees who enrolled as PCSOs after first becoming traffic wardens, Mr Battle added. This is because these employees officially went into their new role already equipped with sufficient powers.
The police official stressed that the Force's PCSOs thought they were behaving properly - as did West Yorkshire Police. None of them acted over and above their powers on purpose, he says.
Mr Battle said the Force addressed the matter the moment it was unearthed.
West Yorkshire Police is working with the courts service to find out how the issue can be resolved with the affected drivers, he went on.
They will first establish whether drivers given wrongly-issued tickets are entitled to a refund. Then, if they find this is the case, they will establish a procedure for the refunds to be issued.
But Mr Battle believes that establishing an accurate overview and thrashing out a possible refund strategy could take many weeks.
Copyright Press Association 2015