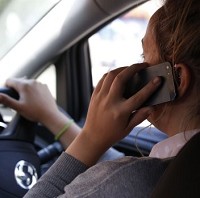 Motorists who use their hand-held mobile phones could face higher fines and an extra penalty point on their licence under new Government plans.
It follows the Department for Transport's (DfT) new consultation document which outlines these measures as the "preferred option" to tackle the problem.
The report says there were 3,611 accidents reported from 2009 to 2014 involving one or more drivers using a mobile phone. But the document suggests that this may just be the tip of the iceberg.
Offenders currently face receiving three penalty points and a £100 fine if they use their mobile phone behind the wheel.
The Government hopes a new fine of £150 and four points would act as a severe deterrent to motorists thinking of running the risk of mobile phone use. Lorry drivers could face six points, the document suggests.
The DfT admits that the last fine hike to £100 from £60 three years ago had little impact on the problem.
But it says raising the penalty to £150 would make more people think twice before they used their hand-held devices in the car.
Drivers who have not offended before would be given the option of being spared licence points by going on a police safety course.
New RAC figures released last October suggest that the number of drivers committing the offence undetected is on the rise. Prosecutions across Wales and England dropped from 32,571 in 2009 to just 17,414 during 2014. The RAC blamed the decline on massive cuts to permanent road traffic officers.
The latest document, released on Tuesday January 26, pointed to studies indicating that around one in 11 drivers (9%) take selfies while motoring.
The consultation is also examining the impact of technology and whether it could automatically put drivers' devices on "drive-safe mode".
Ministers want the new steps to lower the injury and death toll on the country's highways. They hope the reforms will help to change people's mindsets as to the gravity of the crime.
Copyright Press Association 2016. Motoring News articles do not reflect the RAC's views unless clearly stated.