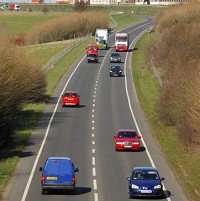 Drivers on a major Dorset arterial road could benefit from a series of highways improvements planned over the next six years.
Local officials hope that winning a share of the £2 billion kitty could help those using the A35 to enjoy better journeys than many experienced this year.
The road was dogged with heavy traffic jams and several accidents over the summer holiday season.
The A35 won national notoriety thanks to a heavy traffic protest with a difference five years ago. Locals kept pressing the pedestrian crossing to create tailbacks and traffic chaos on the Chideock stretch of the road, led by a then 77-year-old former aircraft fitter.
Ministers hope that the £2 billion funding into major South West road upgrades will stimulate the area's economy by offering easier, quicker and more trustworthy journeys.
This Tuesday saw Highways England officials meet with stakeholders and suppliers in Yeovil to discuss how the pot will be spent and delivered.
Simon Christopher, a councillor representing Chideock and Symondsbury for West Dorset Council, says that suggestions were made at the meeting to improve his local authority area's section of the A35.
He called the last summer "particularly bad" for West Dorset residents using the roads, especially as a number of serious accidents occurred.
Cllr Christopher called for new 40mph speed restrictions in the western Morcombelake following a particularly bad accident in July in which a pensioner sustained severe injuries.
He says Dorset-heading holidaymakers were also disrupted, starting and finishing their trips in deep A35 jams.
Andrew Page-Dove, regional director for Highways England, believes the fresh funding will see "huge" benefits for drivers journeying throughout South West England.
The scenic, one-lane A35 offers motorists fantastic views across the ancient Jurassic Coast. Campaigners say it is at risk of turning into a stress-inducing "rat run" unless the area gets a new bypass.
Copyright Press Association 2015