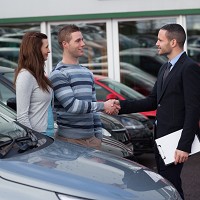 The economic recovery is giving motorists the confidence to set aside more money to pay for their next car, according to a new study.
Motoring.co.uk's second Car Buying Index suggests that 27% of consumers intend to spend more than £25,000 when they change cars, compared to 23% in November last year.
The latest figures indicate that 14% of people think they will spend more than £20,000, 22% over £15,000, 24% more than £10,000 and 13% of consumers think they will spend over £5,000.
Nearly a fifth of deals will be done through dealer finance, hire purchase and contract purchase (18%), double the percentage found in November.
A fifth of buyers expect pay between £200 and £249 a month for cars, while 19% are budgeting for £150 to £199.
One in 10 buyers hope to pay between £100 and £149, while 11% are prepared to pay more than £400 a month even before they factor in the cost of car insurance .
More than three quarters of consumers (77%) are planning to change their vehicle in the next three years, while 72% said so in November, meaning they are beginning to loosen their purse strings, according to Motoring.co.uk sales director Chris Green.
Copyright Press Association 2013