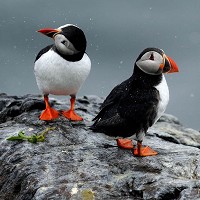 Motorists in North Berwick are being advised to check underneath their cars before setting off anywhere in the coming weeks just in case there is a baby puffin taking shelter.
Bird conservationists warn that young puffins, otherwise known as pufflings, could soon lose their way as they leave their coastal burrows for the sea.
The Scottish Seabird Centre in North Berwick, East Lothian, says it is not uncommon for the birds to become disorientated by lights from urban areas and fly into town before seeking out somewhere dark to hide.
Many of the lost birds decide to take shelter underneath cars, while one was once found wandering along a corridor in Marine Hotel in North Berwick.
"This is a key time of year for our puffins as they head out to sea after the breeding season," said Tom Brock, chief executive at the centre.
"My request to people in and around North Berwick is to look under your car; you may find a cute young puffin. So please take a minute to check."
Copyright Press Association 2013