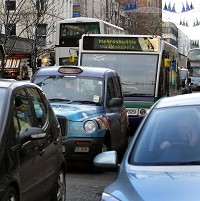 Traffic snarl-ups are causing some drivers to endure one tenth of a mile an hour journeys to work in the morning 'rush-hour', according to a new study.
GPS vehicle tracking business RAM Tracking says 10 of the UK's 20 slowest moving roads are in London, with Jamaica Road in the borough of Southwark the worst for traffic jams.
Drivers averaged just 0.08mph between 8am and 9am in February this year.
Traffic moved at 0.13mph on the B221 Bedford Road in Clapham, while Greenhill Way in Harrow and Queen Anne's Gate in Westminster both averaged a quarter of a mile per hour.
The slowest route outside of the capital is the A5081 Park Way in Trafford Park, Manchester, where cars can move as slowly as 0.69mph. Also on the top 20 list of snail-pace journeys outside London are two roads in Headington, Oxford and six in Birmingham.
Traffic on Harrogate's Skipton Road in North Yorkshire typically crawls at 1.50mph, while 1.76mph has been recorded on the B5145 Poulton Road in Wallasey, Merseyside.
Chris McClellan, the managing director of RAM Tracking, said the findings show the enormous amount of time people can be wasting on the way to work in the morning,
Copyright Press Association 2013