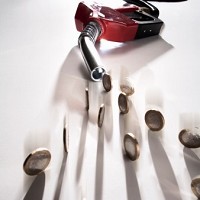 A new survey has revealed that over a third of motorists in the UK moderate their speed in an attempt to keep fuel consumption and costs down.
The study, which was commissioned by Autoglass to mark its 40th birthday, shows that 45% of male drivers are not accelerating as aggressively as they might have done a decade ago and 42% of female drivers like to use fifth gear as much as possible.
The findings indicate that the rising price of petrol and diesel has brought about a shift in people's attitude towards driving, with more than half (56%) of drivers admitting they would like to own a more fuel-efficient car if they could.
However, over two-thirds (73%) are not prepared to team up with friends or family to share a car and therefore share the burden of fuel costs as well as other costs like car insurance and breakdown cover .
And the change in attitude also suggests that fewer people enjoy driving nowadays, with 35% of respondents saying they preferred driving when they first passed their test and 24% disliking driving more than they used to, while 40% don't view driving as a relaxation activity at all any longer.
Copyright Press Association 2012