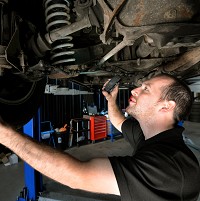 New car owners are turning in their droves to independent garages for services, repairs and MOTs, according to Trust My Garage.
A poll of 100 motorists from around the UK found a link between the number of new cars on the road and the level of people using an independent garage.
Just over two-thirds of motorists (67%) take their car to an independent garage instead of a main dealer (31%), although 3% don't know which type they are attending.
Some 45% of motorists said their car was between five and 10 years old, while 16% owned a car older than 10 years old. A total of 39% of motorists had bought their car in the last five years.
European Block Exemption Regulations mean that motorists are no longer required to visit a main dealer garage with their new car, giving them the ability to have it repaired at the garage of their choosing, without invalidating the warranty.
Independent garages are typically favoured by motorists for their lower prices, better personal service and a desire to support local business.
"There are thousands of quality independent garages that are perfectly competent to service newly manufactured cars," said Terry Gibson from Trust My Garage.
"They have full access to manufacturer information and operate equipment and tools that can analyse faults on your vehicle and with quality parts and trained staff, independent garages are able to offer you safe and clean mobility throughout the entire life cycle of your car."
Copyright Press Association 2014