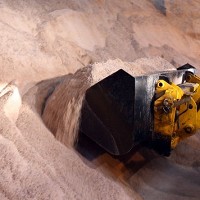 Motorists are being reassured by local authorities they won't be caught out by freezing weather this winter.
Stockpiled salt levels hover around the 1.3 million-tonne mark, according to a new Local Government Association (LGA) survey.
More than nine in 10 English and Welsh authorities are maintaining or raising stock supplies this winter, the poll found, despite funding cuts. Three in four councils will also help drivers hit by the biting cold through Twitter updates on their gritting activity.
Pete Williams, spokesman for the RAC, said: "Motorists would do well to take a leaf out of the local authorities' book and spend some time this weekend or over the next week doing their own winter preparations on their cars, otherwise they might find themselves having to deal with a breakdown rather than getting easily to their chosen destinations."
Nearly half (49%) of councils will share salt stockpiles with adjacent councils if necessary, one in five will pool gritting workers, while one in four plan to share gritting lorries.
Quad bikes are also going to be used in pavement-gritting operations, and the public will be able to access salt through grit bins filled by more than eight in 10 (83%) local authorities, said the LGA.
Peter Box, transport spokesman for the LGA, said that GPS-equipped state-of-the-art gritters will help to guard against complacency this winter.
Copyright Press Association 2014