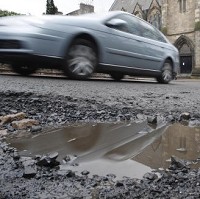 More motorists are having to take evasive action to avoid potholes on Britain's roads, research has shown.
The Kwik Fit study revealed that millions of drivers are swerving to avoid potholes.
Meanwhile, researchers found there has been a 143% rise in those that end up hitting potholes.
More than 2,000 drivers were quizzed during the survey, with 66% saying they have had close calls with potholes, compared to 54% in 2011.
Aside from being a bumpy nuisance ruining journeys, serious pothole damage could affect no claims discounts and car insurance premiums if repairs are needed.
Some of the measures taken to avoid potholes included slamming on the brakes (18%), mounting the pavement (5%) and led to 7% hitting the kerb.
Results showed that the West Midlands is the worst area for potholes, with almost three quarters of drivers (71%) revealing that they have been forced to take evasive action.
Meanwhile, only 56% of drivers in Wales had to take similar action.
More than 10% of drivers aged 18-24 said they had been involved in an accident while trying to avoid potholes and 7% said they had been in accident because of one.
The findings revealed that last year 2.2 million potholes were repaired by local authorities, up from 1.7 million in 2011.
Copyright Press Association 2013