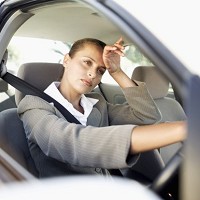 With temperatures continuing to soar, drivers all over the country have been turning to their air-conditioning in an effort to stay cool.
But many have been left hot under the collar after they found their systems aren't operating as effectively as they should.
Halfords Autocentres, which saw a surge in demand for its air-conditioning services over the weekend, said the majority of drivers forget or fail to realise these systems require regular attention to keep performing at their best.
As temperatures hit highs of 29C, with Sunday becoming the hottest day of the year so far, the company saw demand for air-conditioning servicing rise by 86% on the same period last year - and a massive 159% rise on last week.
Rory Carlin, from Halfords, said: "Our garages test and service more than 35,000 air-conditioning systems a year but have found more than three quarters of them aren't operating efficiently.
"It's clear from these figures that many motorists will have been disappointed by the absence of a cool breeze coming from their car's air vents over the past few days."
As motorists would regularly service their cars to prevent breakdown , it is also recommended that air-conditioning systems are checked and recharged every two years.
Copyright Press Association 2013