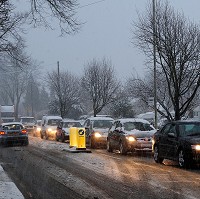 Road users are being encouraged to carry out a few simple checks on their car to make sure it is ready for winter.
With many motorists spending an extra few minutes over the past few days defrosting their windscreens before the commute to work, it is hoped the first signs of a change in the weather will prompt them to make other checks.
However, it seems many are not taking the hint, with research by the Highways Agency revealing that almost half (45%) of drivers fail to carry out any winter checks on their cars.
And while it is doubly important to make sure vehicles are well maintained during the winter, almost two thirds (63%) of road users making a winter journey do not check their anti-freeze, oil or water before heading off.
The Highways Agency said it spends the whole year preparing for winter, including stockpiling salt, to make sure roads are as safe as possible for drivers when conditions become more dangerous.
RAC spokesman Simon Williams said: "It's very important to make sure your vehicle is prepared for winter driving, otherwise you might find yourself having to deal with a breakdown rather than getting easily to your chosen destination.
"Regularly checking your vehicle's coolant level - and its anti-freeze content - along with oil levels could prevent a disaster on the roads this winter.
"Add to that fuel, tyre tread and pressures, lights and screenwash - which should protect down to at least -10C when diluted - and you should be in good shape for tackling the cold weather on the roads.
"To help remember these checks just think: FORCES - fuel, oil, rubber (tyres & wipers), coolant, electrics, and screenwash."
Copyright Press Association 2014