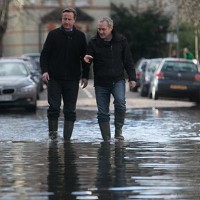 Motorists can expect more battering from heavy wind, rain, and even snow as Prime Minister David Cameron pledged he would do "whatever it takes" to help people affected.
Forecasters told drivers and householders that Valentine's Day storms are likely to wreak havoc.
They warned that the awful weather devastating communities across the country shows no indication of abating. More deluges are predicted on Friday and Saturday.
RAC spokesman Simon Williams said: "This has not been the greatest start to the new year with many motorists across the country being brought to a standstill because of the dreadful weather. We strongly urge motorists to exercise extra caution while driving in these conditions.
"Motorists should not be tempted to try to drive through floodwater unless they are completely certain it is shallow enough to do so. Driving through flood water can cause catastrophic engine damage and heavy rainfall and strong winds presents added risks to motorists.
"Our patrols are fully prepared and on standby to deal with the consequences of these appalling conditions. We will be making the most of our SOS 4x4 Team patrols by deploying them to help motorists in the worst-hit areas."
Mr Cameron apologised for the suffering caused by the severe weather. Water surface problems have seen various weather-related accidents with scores of motorists having to claim on theircar insurance .
The Met Office forecast wind, rain and snow in a "multi-pronged attack" with up to 40mm (1.6 ins) of rain due to fall in six hours as gusts of up to 80mph batter parts of the UK.
The Environment Agency (EA) has 17 severe flood warnings in place in the Thames Valley, Somerset and Gloucestershire, which mean a risk to life.
It has issued 131 more flood warnings throughout England and Wales and 246 flood alerts.
Mr Cameron, visiting storm-hit Blackpool, told ITV1's Daybreak: "I am very sorry for any way that people have suffered."
Copyright © Press Association 2014