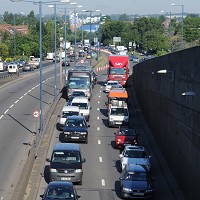 Motorists faced long queues today on routes where pre-Olympics modifications have been made to road layouts.
There were delays of up to an hour on the A13 between the Canning Town Flyover and the A1261 East India Dock Link Tunnel junction in east London.
There were also jams on the A12 southbound in Leyton in east London while there were 45-minute hold-ups on the A40 Western Avenue in west London.
The delays were less severe at these spots than they had been yesterday, suggesting that drivers were heeding the warnings byTransport for London (TfL) to avoid driving in London in the run-up to, and during, the Games.
The road changes have been made ahead of the full introduction tomorrow of 30 miles of Olympic traffic-only Games Lanes in London as part of the 109-mile Olympic Route Network.
London Underground services were running without delays today, but Monday saw a series of problems, including routes that will serve the Olympic site at Stratford in east London.
These included the suspension last night of the Central line between White City and Liverpool Street due to a fault on the track near St Paul's.
Copyright Press Association 2012