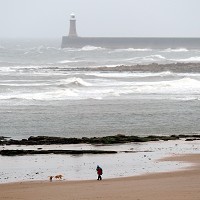 The clocks may have gone forward but wintry conditions returned with a vengeance to hit motorists this weekend.
The start of the Easter school holidays saw heavy rain and gales buffet north-westerly parts of Britain.
Drivers have been told to expect rain, wind and snow to strike parts of Britain in the coming days.
These kinds of conditions may keep breakdown cover operatives busy, and motorists expecting a sunny school break have already been disappointed.
For example, relentless rain spelt the abandonment of football games and some areas were hit by gales, with winds approaching 71mph.
This trend is likely to linger for most of the first Easter holiday week, forecasters predict.
The rain might continue into the four-day Easter weekend, they say.
Nicola Willis, a forecaster from the Met Office, said the severe band of rain travelling across the country is coming in from South West England and Wales.
"The first spring bank holiday of the year traditionally heralds the start of busier weekends on the nation's roads," said RAC head of external affairs Pete Williams.
"This Easter is set to be a hectic one with 16 million of us getting behind the wheel for an Easter break, but at least we will benefit from the longer days and lighter evenings to complete our journeys.
"Motorists will welcome the announcement that hundreds of miles of works are being lifted ready for the traditional Easter bank holiday getaway, but they won't be able to escape them entirely with roadworks and temporary speed restrictions remaining in force in some locations.
"To avoid being the cause of a queue, our advice to motorists is to give their vehicle a quick 'once over' before setting off on a long journey. Check things like tyre tread, coolant, oil and screenwash levels, and be sure to carry some emergency motoring essentials such as a first aid kit, a reflective warning sign, and a fully charged mobile phone.
"Finally, we recommend considering starting a journey earlier in the day if the plan is to drive a long distance."
Copyright Press Association 2015