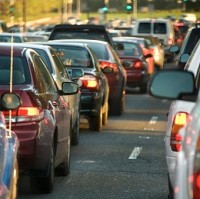 Travelling over the Christmas period could be a stressful experience, with experts warning of congested roads, rail engineering work and train and tube strikes.
Although some roadworks have been suspended over the festive period, up to 18 million motorists could take to the road this Christmas, according to traffic information firm Inrix.
The journey back home could be a slow one, with some drivers taking up to six times longer than usual to get home in some areas, analysts said.
More than 250 miles of roadworks will be finished before Christmas, said the Highways Agency, which is responsible for all of England's motorway and major A-roads.
Another 57 miles of works will be suspended between December 21 and January 2, but there remains almost 100 miles of engineering work in place.
However, works remain on the M4 between junctions 10 and 11 at Reading in Berkshire, the M25 at junctions 5 and 6 near Godstone in Surrey and the M5 between junctions 19 and 21 near Bristol.
Those living in London are expected to travel an average of 167 miles - the furthest in the country - over the festive period, while around 7% of drivers have modified their Christmas plans due to the cost of filling their tanks, tyre firm Michelin said.
Copyright Press Association 2012