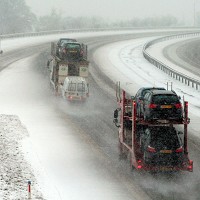 A lack of snow this year has resulted in many drivers not switching to winter tyres, according to Kwik Fit.
While the firm reported an increase in demand for winter tyres in October and November, compared to the same period last year, customers seem to have decided to delay changing their tyres this month in order to have them fitted in the New Year.
Winter tyres provide better grip when temperatures dip below 7¡C, and despite milder-than-normal conditions this month, most motorists will have driven in colder weather during December.
"Motorists should not wait until they see snow falling before switching to winter tyres," Roger Griggs, communications director at Kwik Fit, said.
"We know people have very busy schedules at this time of year, but if they have winter tyres stored in our tyre hotel from last winter, we would advise them to book a time to get them refitted as soon as possible."
Research by Kwik Fit suggests that 68% of drivers are still unaware of the difference between summer and winter tyres.
Copyright Press Association 2013