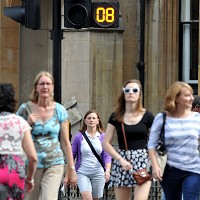 Around two thirds of drivers worry about being hit by traffic when walking in their local area, a new poll has revealed.
Around 16% on those polled by road safety charity Brake said that they have had a near-miss with a pedestrian or cyclist in the past year.
Brake deputy chief executive Julie Townsend said: "It's vital we make our roads safer for families and people of all ages to walk and cycle, and drivers can help bring this about."
Drivers were also asked if they thought it was safe for families in their local communities to walk and cycle without danger from passing traffic. Only 36 per cent believe that this is the case in most or all of their local area.
Seven per cent said that there were few or no places where families can walk, cycle or play without danger from cars.
Ms Townsend said: "Our survey reveals that drivers acknowledge the risks families face on roads, but we also need drivers to realise the difference they personally can make, and always drive as though a child could run out unexpectedly."
Copyright Press Association 2014