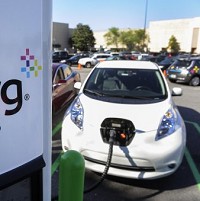 The RAC has questioned ministers' "frustrating" scaling down of driver incentives to switch to eco-friendly cars.
The criticism comes on the day the industry claims such vehicles can typically save owners £750 in running costs.
The Government-supported Go Ultra Low puts typical diesel or petrol costs at £900 a year, at 12p-a-mile over 7,500 miles. This compares to just £150 for 2p-a-mile in an electric vehicle, the eco-car switch initiative says.
Drivers of such cars also currently enjoy the advantages of free charging units, tax incentives and occasional free parking.
But the RAC says there is going to be "little incentive" in the near future for people buying a car from the ultra-low emission vehicle (ULEV) range, particularly concerning tax breaks.
Simon Williams, spokesman for the RAC, said: "While the cost-per-mile benefits of ultra-low emission vehicles are plain to see, the Government is actually reducing or removing many of the financial incentives to encourage their take-up in the first place - which will be frustrating for anyone thinking of buying a new car.
"From 2017, changes to vehicle excise duty will mean that every motorist except those driving pure electric vehicles will pay a flat rate of annual tax, after year one.
"This will be the same for both the smallest, most efficient petrol and diesel cars, and those vehicles that are much less efficient and emit much higher levels of CO2.
"So from a VED perspective, there will soon be very little incentive to choose a brand new ultra-low emission vehicle.
"This could lead to a surge in sales of the most efficient cars in 2016, with motorists seeking to guarantee paying less VED before the new changes come in a year later.
"The Government's universal plug-in grant scheme is also due to end this year, with the Office for Low Emission Vehicles planning a replacement 'tiered' system.
"But with only months to go before this is due to be introduced, full details of which vehicles will attract the greatest grants are still unconfirmed."
An ULEV is a vehicle which produces a maximum of 75g/km CO2, currently all plug-in electric cars. Go Ultra Low's scheme is targeted at persuading drivers to view ULEVs as mainstream not a novelty.
Seven carmakers plus the Government are financing the scheme.
The campaign's leader, Hetal Shah says that car purchases are among the most expensive most people will make over a lifetime. She says that this makes the value-for-money equation even more important for buyers.
Copyright Press Association 2015
https://www.goultralow.com/ (Go Ultra Low)