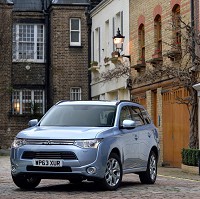 The bragging rights of owning eco-friendly cars could hasten the driving revolution towards ultra-low-emission vehicles (ULEVs), according to Go Ultra Low.
Latest sales figures indicate that British drivers are gradually switching to ULEVs. But there are still fewer than 7,000 Nissan Leaf units - the best-selling battery-powered electric car - on the country's roads, according to the RAC Foundation last month .
But now, Go Ultra Low's latest poll suggests two in three UK motorists covet an ULEV for reasons of one-upmanship.
The Government's ULEV advertising campaign claims as many as 67% of people surveyed wish to buy high-tech hybrid and electric cars to score moral victories over their peers.
Ironically, few people were as guilty of trying to "keep up with the Joneses" than the Joneses themselves. Over three-quarters (77%) of respondents with this surname confessed to wishing to own a ULEV to get one over on their neighbours and friends - 10% more than the UK average.
Eight in nine Joneses believe that ULEVs' potential massive savings on running costs provide "compelling" grounds for buying a car from the eco-friendly stable.
Overall, three in four motorists say running costs top their priority list when it comes to selecting their next vehicle.
Go Ultra Low's leader Hetal Shah says the thing drivers look for most when getting a new motor is its purchase price. Then comes running costs, comfort, space then style.
She says the wide choice of electric cars coming onto today's market is changing drivers' mindsets on the issue of desirability. The poll shows most customers want the new generation of silent, technology-laden, refined plug-in vehicles.
She confidently predicts the number of motorists nationwide plugging-in to the burgeoning ULEV trend will grow by thousands over 2015 alone.
Copyright Press Association 2015