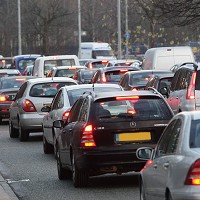 London-style congestion charges could be imposed elsewhere in the UK under plans that the EU is suggesting to meet emissions targets.
The European Commission has issued a new set of guidelines for councils on how to reduce emissions by 20% by 2020. These include motorists being charged for driving through British towns and cities.
It states that councils should send a "clear economic signal to polluters" to reduce vehicle emissions.
The proposals are part of the EU's Delivering on the Europe 2020 Strategy for local and regional authorities.
The EU is also suggesting that householders could be charged for waste disposal in a bid to encourage more people to recycle.
The guide tells local authorities that it is important "to ensure that local or regional taxes or charges are consistent with wider objectives".
The guide states: "Specific examples of local charging schemes that both generate local revenues and serve wider public policy objectives include congestion charging for private car use in urban centres; charging for commercial and domestic waste collection and disposal has the advantage of ensuring the sustainability of the service and sending out a clear economic signal to polluters."
Conservative MP Martin Vickers, who sits on the Transport Select Committee, says local authorities should have the final say on whether to introduce congestion charging.
Copyright Press Association 2016. Motoring News articles do not reflect the RAC's views unless clearly stated.