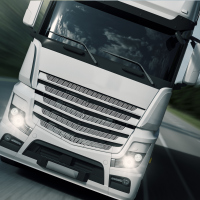 Motorists are being warned that they could face challenging driving conditions on Wednesday (March 2).
Forecasters predict that they face possible snow, ice and winds reaching a maximum of 70mph.
In recent weeks drivers have been tested by storms Imogen, Henry and Gertrude.
Now Storm Jake could bring as much as 10cms of snow over higher ground and 5cm in several places, increasing the chance of vehicle .
RAC spokesman Rod Dennis said: "The seesaw weather conditions that have characterised this winter - mild, wet and windy one day, cold and dry the next - look set to continue this week with the arrival of the tenth named storm.
"With the threat of some wintry showers, especially in the north of the UK, motorists will once again need to take extra care.
"Our advice is to drive more slowly, check local weather and travel reports regularly, and expect the commute tomorrow morning to take a little longer than usual."
Cheshire, Derbyshire, the Humber and Nottinghamshire are all possible candidates for the snowy roads with Highways England urging drivers to plan for likely delays.
In south-west England drivers handling high-sided vehicles are being warned to beware of "tricky" elements as strong winds buffet the roads.
Drivers also face possible icy roads as Tuesday night's (March 1) rain is followed by a drop in temperatures across untreated highways.
Met Office officials have issued a yellow alert for ice and snow across large parts of Northern Ireland, northern Wales, Scotland and northern England. This colour means "be aware".
The same warning is also covering South Wales and south-west England after 8am with gales on the coast expected to reach 70mph and inland gusts reaching 50mph.
Calum MacColl, a forecaster for the Met Office, says there is a distinctly wintry feel about the start of March.
He calls the weather "windy", "unsettled" and "cold", with western drivers bearing the brunt of the elements.
The conditions also disrupted Dover ferry services.
Temperatures throughout Scotland and northern England were likely to hit a maximum 5C. Londoners could look forward to a more pleasant 9C, however.
The storm came a day after Met Office officials provisionally reported that the winter just gone has been the warmest Wales and England has seen for over 100 years.
The UK overall has only seen two winters warmer than the 2015/16 cold season.
The same body reports that Northern Ireland, Wales and Scotland suffered their wettest winter since records began.
Britain overall has experienced only one wetter winter - in 2013/14.
Copyright Press Association 2016. Motoring News articles do not reflect the RAC's views unless clearly stated.