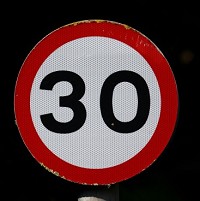 Road safety campaigners have spoken out after new figures show that two motorists have been caught driving at 146mph on one of the UK's busiest motorways.
Cameras clocked one driver going at 146mph on the clockwise section of the M25 at Swanley in Kent, while the other was travelling anti-clockwise near Westerham.
Sarah Sillars is chief executive officer at the Institute of Advanced Motorists (IAM), the organisation which requested the figures. She describes the findings as disheartening and says those who travel at such excessive speeds are showing a total disregard for the safety of other road users.
She adds that those driving so fast would find it impossible to react to another vehicle, pedestrian or obstacle in front of them.
The IAM figures also show a driver was caught doing 145mph on the M6 toll road in the West Midlands, while speeds of 141mph and 140mph were recorded on the A1 in Lincolnshire and the A5 in Northamptonshire respectively.
Meanwhile, a motorist was recorded doing 128mph on London Road in East Grinstead, West Sussex - more than four times over the road's 30mph speed limit.
And in London the Metropolitan Police say they clocked a driver doing 123mph on a road with a 30mph limit.
All but six of the 36 police forces in England and Wales responding to IAM's Freedom of Information Act request said speeds of over 110mph were recorded in 2014.
Copyright Press Association 2015