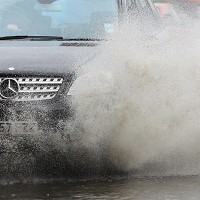 Some motorists are 'deliberately' driving through puddles in a bid to splash pedestrians.
That's according to new figures released to the Press Association by police forces under the Freedom of Information Act.
Scores of upset walkers across England and Wales have contacted authorities to report drivers swerving deliberately into standing water. Some of them even claim local officers were among the perpetrators.
The figures, taken from six police forces, show there were 63 reported incidents of motorists driving through a puddle and causing splashing during a five-year period from January 2009.
The act of Splashing, as it is known, falls under Section 3 of the Road Traffic Act 1988. It can be punished through a fixed penalty notice for drivers found guilty of the offence.
South Wales Police dealt with 38 incidents of splashing, with victims as young as 10. A bus driver accelerated to soak pedestrians in one case, while a police officer was forced to apologise after driving a 4x4 through standing water in another.
Copyright Press Association 2015