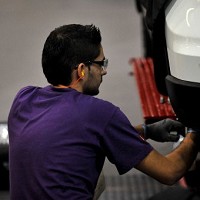 Drivers can now view a car's complete MOT history thanks to a new website.
The Government site means that motorists buying a car can do so with more peace of mind than ever before.
And for even more security, drivers can use the RAC Car Passport , which provides information on areas including outstanding finance, whether a vehicle's been stolen, written off or scrapped and mileage discrepancies.
Ministers want the site to create more transparency between second-hand vehicle sellers and buyers. All drivers have to do is key in the registration number and the car's model.
Crucially, the site enables motorists to find out whether a car has passed previous MOTs. I t also gives information about earlier test dates, mileage at point of test and the test number.
The site will even reveal why a vehicle has failed its MOT and highlight corrosion, worn tyres, brake pads and other advisory notices.
It is hoped this will reduce the chances of car breakdown in future because a driver lacks knowledge about their vehicle's past.
In addition, this latest Government website will remind drivers when their current MOT certificate expires. The website is still a work in progress, with its creators saying they welcome feedback.
The Driver and Vehicle Standards Agency is currently working on a second site that enables people to view additional details concerning all registered motors.
First date of registration, tax payment reminders, CO2 emissions and tax bands are all included in this site.
Copyright Press Association 2015
https://mot-history.net/%20 (Government site )
https://www.rac.co.uk/buying-a-car/car-passport/ (RAC Car Passport)