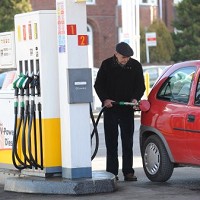 Drivers are likely to carry on being the winners as the world experiences an over-supply of oil, the RAC predicts.
This follows the publication of our latest RAC Fuel Watch figures, which help motorists stay up to date with the latest pump prices.
They show that petrol prices dropped a typical 4p per litre last month to just 112.42p. This means drivers typically saved £2 on the cost of filling up a standard family-sized petrol tank compared with the beginning of August.
Diesel drivers saved even more over the same period. Costs also fell last month - by an additional 5p to a typical 110.40p - to save them £2.60 on average for one tank.
The RAC predicts it is "unlikely" that motorists will see pump prices go back to the record levels endured during April 2012.
The latest reductions have been fuelled by the lowest oil prices for a year near the end of August, with barrels costing 41.87 dollars (£27.38) each.
As August approached, oil barrels regularly cost £39.24 a barrel. This then went under £32.70 per barrel when August arrived, where it remained for the entire month, hitting a new low on August 24.
Simon Williams, fuel spokesman for the RAC, said: "We thought July had been a good month for motorists, but August proved to be better still due to world oil prices reaching their lowest since February 2009.
"In January we saw oil go down to 45 dollars (£29.43), but then recover to around the 60 dollars-a-barrel mark where it stayed for several months until this new level of over-production in August led to a dramatic reduction.
"Diesel drivers have benefitted the most this summer due to a new supply of diesel from Saudi Arabia bringing the wholesale price down.
"They are now paying £5.60 less to fill up than they were at the beginning of July, whereas the savings for petrol motorists have only just kicked in with the drop in the price of oil feeding through into lower wholesale and retail prices.
"The good times at the pump may, however, be coming to an end as OPEC - the Organisation of the Petroleum Exporting Countries which produces 40% of the world's oil - has said it is willing to meet with other oil producers to discuss a 'fair' price for oil.
"The barrel price has already rebounded and is continuing to trade up around 48 dollars (£31.39) so we may not see a low of 41 dollars (£26.81) a barrel again.
"Due to the global oil over-supply situation we are in, pump prices look unlikely to return to the all-time high levels of 142p for petrol and 147p for diesel experienced in April 2012 so the cost of driving should continue to be cheaper for some time to come."
HMRC's July oil tax figures show that fuel sales dipped by 1.6% compared to June's numbers. But this represents a 3.5% hike on the same month in 2014.
Copyright Press Association 2015