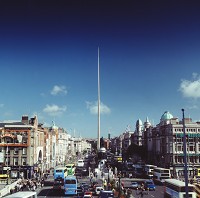 Motorists are to be outlawed from key roads in central Dublin amid proposals to make the Irish capital more appealing to pedestrians and cyclists.
The sweeping 150 million euro (£109.2 million) eight-year rolling plan is in response to a projected additional 42,000 morning vehicle trips into Dublin at the end of this period.
City leaders say such anticipated growth cannot be accommodated unless more vehicles are diverted away from its city centre.
This means that drivers will no longer be allowed to set their journey planners via roads including Bachelors Walk, College Green, Suffolk Street and Westmoreland Street.
Such a scheme is nothing new. Only last year Paris temporarily banned almost 50% of its cars and lorries in an attempt to lift a blanket of poisonous smog that had settled over the city.
The College Green car, taxi and van ban is among the most notable closures.
This will help facilitate a new civic space and plaza which will serve pedestrians, cyclists, buses and tram passenger going by Trinity's front.
In addition, the notorious Bachleors Walk city bottleneck will be transformed into a car-free area serving cyclists, pedestrians, taxis and buses. A similar plan is likely to be introduced in one of George's, Aston or Burgh's quays on the River Liffey's south side.
Westmoreland Street will be pedestrianised. This area will link Grafton Street with Henry Street/O'Connell Street and be equipped with wider walkways. Better cycling facilities and links to O'Connell Bridge and the busy Luas interchange will also be included here.
The National Transport Authority and Dublin City Council's plans have gone out to public consultation and replies can be made until the middle of next month.
Officials said the intention is to divert through-traffic from Dublin's central region.
Much of the new plan hopes to utilise the ongoing Luas Cross City's initiative, the city's light rail network. Work began on this two years ago and it is expected to be operational by the end of 2017 with an extra 10 million journey expected every year.
Owen Keegan, the chief executive of Dublin's city council, said its centre would only go on functioning successfully if its workers, residents and visitors are given extra choices on how they move about the place.
Copyright Press Association 2015