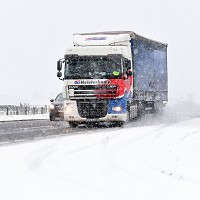 Drivers across the UK have been advised to be on their guard with icy conditions causing widespread disruption on the roads.
Amber warnings - the second highest - for icy conditions for most of England have been issued by the Met Office after the coldest night of the winter was recorded in the early hours of Monday.
And RAC spokesman Simon Williams said: "We are in red alert status and had attended 2,750 breakdowns by 11am - twice as many as we would do on a normal Monday morning. This means we will probably help around 10,000 motorists by the end of the day.
"Our patrols are helping motorists with a range of cold weather-related problems including frozen locks and handbrakes as well as broken heaters that are unable to demist windscreens. There are also many drivers who haven't been able to leave home at all as their batteries have failed in the ice cold temperatures which have reached -10.5c in the Highlands.
"We are urging motorists to take extra caution on the roads and to make sure they always travel prepared. If local conditions look bad, the best advice is try to alter your time of travel to avoid driving in the worst of the weather. But if you find yourself in the midst of harsh weather it's vital you adjust your driving to the conditions by slowing down and leaving plenty of space behind the vehicle in front, and avoid harsh braking."
Motorists in West Sussex have already been hit by winter's chill after the A24 was closed for more than an hour on Monday morning due to icy conditions. The decision was made after a van overturned and several vehicles slid off the road.
The mercury plummeted to as low as minus 11C overnight in some part of the UK and the cold weather is expected to continue until Thursday.
East Anglia, the North of England and Midlands could be particularly badly hit by widespread overnight frosts in the next few days, the Met Office said in a website alert.
It added that "wintry precipitation" and scattered showers are likely in most areas, leading to lying snow and icy stretches.
Copyright Press Association 2015