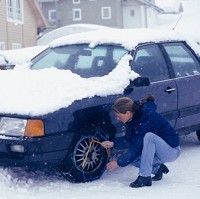 In the wake of the some of the chilliest weeks of the year, motorists are being advised to upgrade their rubber tyres to ones with a winter grip.
This time last year, the average temperature in Britain dropped from 8.7¡C to 4.8¡C and official data showed a high increase in the number of road incidents caused by ice and wet weather. A link between climate and accidents was also observed in the previous year.
It is advised that when temperatures get colder than 7¡C, specialised winter tyres are superior to standard types. These types offer improved grip and stopping ability under icy conditions.
It is thought that under 5% of drivers use winter tyres on an annual basis, which could result in some 27 million cars on British roads being poorly equipped for the weather.
"Many of us have seen the performance of winter tyres in action on the continent," said Pete McNally, general manager of Cooper Tires' European Technical Centre. "Anyone who's been on a ski holiday will have seen Europeans driving around on snow with levels of grip that most UK motorists only dream of in the winter."
He added that winter types are not only good for grip but they are also manufactured to withstand exceptionally low temperatures, which means they can be used until the warmer weather begins in April.
Copyright Press Association 2012