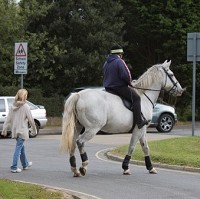 The sight of a horse rider on the road ahead can send motorists into a panic.
But driver training specialist Simon Elstow hopes his tips on sharing the road with riders will help rein in drivers' panic and avoid the need forcar insurance claims.
IAM Drive & Survive's head of training said: "Summer sees more vulnerable road users. They have as much right as car drivers to be there, but a lack of understanding puts them at risk."
He said with riders often wary about taking their horses on to verges because of the hazards that could be hidden in long grass they should be given enough space on the road and room to fidget if they are stood still in a queue.
Other tips include making eye contact with riders, avoiding startling horses by approaching too fast or making sudden noises when passing and giving the animals time to see you, especially if you're in a quieter electric or hybrid car.
Mr Elstow warns that most riders don't use the right-hand lane when turning right as it puts them between lanes of traffic. Some ride side by side to protect less experienced horses or riders in traffic.
Copyright Press Association 2012