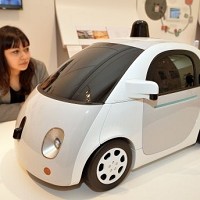 The move towards driverless car technology has suffered a slight hiccup after a near miss in California, Reuters reports.
The non-collision incident involving the autonomous prototype vehicles happened in Silicon Valley on Palo Alto's San Antonio Road last week.
Tuesday's close call featured one car from Delphi Automative and the other from Google Inc, one of the former's directors told the news agency. Never before have two driverless cars nearly collided with one another, it is thought.
Delphi Silicon Valley laboratory director John Absmeier was inside a car involved.
Mr Absmeier, who is also the firm's automated motoring program's worldwide business director, confirmed the incident. He was inside a specially-equipped Q5 crossover prototype from Audi.
Mr Absmeier was back-up in a car designed for driving itself, thanks to specialist computer software, cameras, lasers and radar.
The incident happened as Delphi's Audi car was about to switch lanes. Google's self-driving RX400h crossover Lexus prototype cut off Mr Absmeier's Audi, despite having similar software and hardware installed.
Mr Absmeier claimed the Audi acted appropriately to alter its intended lane change. Google did not comment.
Both tech firms have earlier reported slight collisions involving driverless vehicles and cars driven by people. In the majority of these incidents, the autonomous vehicle was brought to a halt, normally at a junction.
In each incident, the authorities and tech firms claimed the self-driving trial car was blameless.
Delphi and Google's Silicon Valley factories are close to each other. Google is trailing over 20 Lexus test cars, while Delphi is operating two Audi trial cars. The former has begun locally trialling its own self-driving prototypes since Thursday.
Only last month the green light was given for Google's autonomous vehicles .
The tech giant confirmed that the cars will be restricted to just 25mph at this trial stage to minimise risks for human drivers.
Staff have had to be present in all of the on-road-tested prototypes. They have access to both the pedals and steering wheels in case of malfunction so the cars are not totally robot-controlled at this stage.
Copyright Press Association 2015