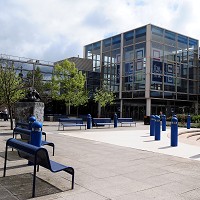 Milton Keynes is to host a driverless car project aimed at boosting green technology across the UK.
People will be transported through the Buckinghamshire town in driver-operated "pods" that run on designated pathways separated from pedestrians.
An initial batch of 20 vehicles, which are capable of carrying two passengers at a time, will be introduced from 2015.
By mid-2017, however, it is planned that 100 fully autonomous vehicles will run on pathways alongside the general public, using sensors to avoid collisions with obstacles.
Business Secretary Vince Cable announced the £1.5 million project, with engineering consultancy firm Arup, Transport Systems Catapult, the Automotive Council, and Cambridge and Oxford Universities already on board.
"With the continually increasing number of people living in cities, city authorities are facing some real challenges with regards to ensuring future levels of mobility," said John Miles, programme director and Arup Consultant.
"This project has the potential to deliver a truly autonomous low-carbon transport option within the context of a city centre."
Mr Cable also revealed a £75 million fund to produce and test low-carbon engines, as the Government looks to channel £1 billion of investment to fund the development of new technologies over the next decade.
RAC spokesman Simon Williams said: "While search giant Google and car manufacturers including Audi, Toyota, Ford, Mercedes and Volvo have been experimenting with driverless-car technology since 2005, it's good to see it will soon be piloted with green technology in the UK. It looks like futuristic pods without steering wheels won't be the stuff of sci-fi films for much longer.
"Interestingly, for the first RAC Report on Motoring in 1989 we asked motorists for their technology predictions and 7% thought that by the new millennium, cars would be driven by computers and there would be no need for drivers."
Copyright Press Association 2013