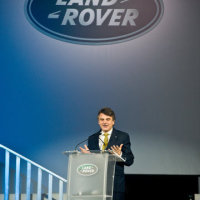 The social isolation endured by many elderly people could become a thing of the past, thanks to self-driving cars, it is being claimed.
Ralf Speth, the chief executive of Jaguar Land Rover (JLR), says the technology will eventually enable those who have had to give up driving to return to the road.
That, he adds, will liberate many and allow them to travel independently again, enabling them to visit friends and relatives, enjoy shopping trips and go to restaurants or pubs.
In a The Sunday Times interview, Mr Speth says he believes elderly people are among those who will gain the most from driverless technology.
He says his own father, who is now 91, suddenly found himself "socially totally isolated" after having to give up his driving licence when he was in his 80s.
Mr Speth told the newspaper he hopes that by the time he stops working he will have a self-driving car.
And he is predicting that the next five years will see driverless technology making more advances than it has in the last 25.
JLR has said it will produce an autonomous car within 10 years and plans to begin testing various autonomous technologies on public roads as early as this summer.
Copyright Press Association 2016. Motoring News articles do not reflect the RAC's views unless clearly stated.