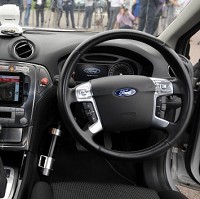 Most UK business drivers fear they will be usurped by fully-automated cars during their natural working lifetime, according to a new Masternaut poll.
The concerns were aired to the business fleet technology company as driverless car advancements continue apace.
As many as 55% of business drivers in the 25-34 age range feared the new models could leave them out of work.
As it stands, technology trials are growing in number. Government-supported self-driving transport tests are now under way in Milton Keynes, Coventry and Greenwich.
Masternaut's Steve Lowe, managing director of its UK operations, said such technology is today "very real" rather than something dreamt up in science fiction.
Mr Lowe said that professional motorists have publicly said little on the subject until now.
The impact upon them has to be considered, especially given that well over half (56%) of new vehicles sold so far this year have been fleet ones, he added.
Copyright Press Association 2015