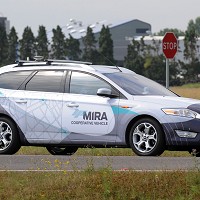 Drivers will be loathe to surrender their vehicle's controls to a computer, motoring organisations are claiming.
This assertion follows ministers' announcement that driverless, technology-operated cars will be allowed on UK roads from early next year.
The trials will begin next January, according to Vince Cable, the Business Secretary.
To facilitate such a move, the Government will need to update Highway Code rules. There could also be far-reaching implications for the car insurance industry.
Earlier this month ministers published a document which said that the driverless cars being trialled will actually require a human on-board. But they are able to drive with total autonomy.
Motorists will for now retain the option of having control over cars themselves, the document added.
GPS technology will guide the new-gen vehicles by locating a car's whereabouts using electronic maps.
The RAC said: "We suspect it will be difficult for people to come to terms with giving up control of their vehicle to a computer."
David Bizley, the RAC's technical director, said: "Many vehicles already have features such as automatic braking and it is claimed that driverless technology is able to identify hazards more effectively than a person can.
"But many motorists will be concerned about not being able to control the speed of their vehicle for the conditions or layout of the road in front of them."
He continued: "There is also the question of whether a human would still have to be present or not to take control in the event of a computer or system failure, or will we really have driverless vehicles on our roads?
"This is no doubt something that will involve new legislation before we actually get to see driverless vehicles taking to our roads."
Copyright Press Association 2014