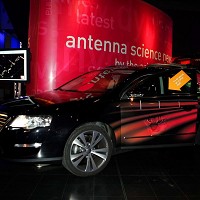 The governor of California Jerry Brown arrived at Google's central office in a driverless Toyota Plus before signing a document that envisions a future without driving.
The move by Democratic senator Alex Padilla will allow robotic cars to be tried out on public roads under new rules.
Mr Brown commented: "Today we're looking at science fiction becoming tomorrow's reality - the self-driving car. Anyone who gets inside a car and finds out the car is driving will be a little skittish but they'll get over it."
Google has been working on bringing the driverless car into the future and has pushed for regulations for further tests. The firm owns 12 of the computer automated cars, which have travelled over 300,000 miles without a collision, it reported.
"I think the self-driving car can really dramatically improve the quality of life for everyone," Google co-founder Sergey Brin said.
The new cars promise to improve road safety and traffic conditions, remove the need for tired workers to drive, and empower those unable to get behind the wheel, including the blind and disabled, he said.
Copyright Press Association 2012