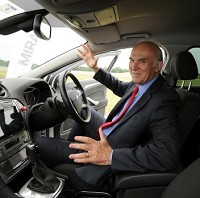 The first official trials of driverless cars on UK roads have been launched by the government.
But the sight of UK motorists relaxing in their vehicles while travelling to work is still several years away, with regulations surrounding safety and car insurance liability still to be hammered out.
Professor Stephen Glaister, director of the RAC Foundation says: "These trials are not just about harnessing technology to make our travelling lives easier and safer, they also involve getting the regulation right.
"Alongside the high-tech innovation you need policy decisions on long-term, low-tech matters such as who takes responsibility if things go wrong. As and when these vehicles become common place there is likely to be a shift from personal to product liability and that is a whole new ball game for insurers and manufacturers."
Transport minister Claire Perry and Vince Cable, the Business Secretary, have been viewing vehicles to be used in the trials, after a Government review found no legal reason tests couldn't go ahead.
Ms Perry says the technology has the potential to transform UK motoring but admits it is still in the early stages.
Government publication of a code of practice surrounding the tests is set to come in this spring. A review and amendment of UK regulations - possibly including the Highway Code and MOT tests - is expected in summer 2017.
The Government also wants to see more clarity surrounding liability, both criminal and civil, in the event of accidents involving driverless cars.
Copyright Press Association 2015