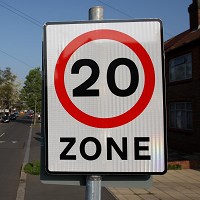 A Liverpool motorist who has built up a record 45 penalty points is still driving.
All of the points on his licence were given for eight offences of either speeding or failing to reveal the name of the driver, according to figures from the Driver and Vehicle Licensing Agency.
The figures, which came after a Freedom of Information Act request, also reveal that 36 was the second highest points total, for a Warrington man caught driving without insurance six times in under a fortnight.
A Lincoln woman had 34 points; she was caught speeding three times and failed to disclose the identity of the driver four times. This is followed by a female driver from Hull who built up 31 points after she was caught speeding eight times in as many weeks.
Next was a Westcliff-on-Sea man who totted up 30 points. He was caught speeding six times within a fortnight.
Drivers have to consider the huge costs which can accrue from road offences, added to the required expenditure forcar insurance for which they are likely to be hit harder when premiums are renewed.
The three most common reasons for being given points are failure to reveal the owner's identity, speeding and driving uninsured, according to the Institute of Advanced Motorists which obtained the figures.
Motorists who tot up 12 points within three years can be disqualified from the roads.
Copyright Press Association 2014