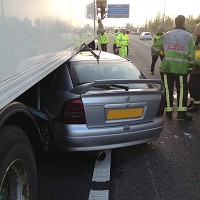 A man narrowly avoided serious injury after his car was trapped under the side of a lorry on a motorway.
West Midlands Ambulance Service said the crash occurred close to junction 10a on the northbound M6 at around 7.40pm on Monday.
Ambulance crews found the silver Vauxhall Astra stuck under the side of an HGV and witness reports said it had been dragged a short distance along the motorway.
It is vital that all drivers have car insurance to ensure they are covered should they be involved in any accident that may occur on the road.
A spokesman for West Midlands Ambulance Service said of the incident: "Thankfully, despite the damage, the driver of the car, a man estimated to be in his 20s, was able to get out relatively easily.
Amazingly, it appears as though he has suffered only minor abdominal injuries."
The spokesman also added that the lorry driver was shaken, but uninjured in the accident.
Copyright Press Association 2012