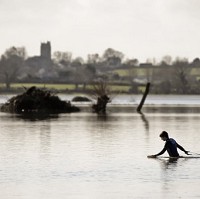 A motorist has been reunited with his abandoned car nearly three months after it was submerged by flooding on the Somerset Levels.
Hubert Zajaczkowski, 21, won't have to claim on hiscar insurance for his £600 Seat Toledo, although he admits the vehicles now stinks.
Mr Zajaczkowski got behind the wheel of the saloon for the first time since he was forced to leave it on a road near the village of Muchelney on Christmas Eve due to the rising waters.
The car became a symbol of the freak flooding unfolding in Somerset and was even commented upon by the Prince of Wales and Prime Minister David Cameron.
As the flood levels recede, Mr Zajaczkowski has been able to get back in his vehicle after it was towed from where he had left it by a military amphibious vehicle.
Mr Zajaczkowski told the BBC: "I feel proud to be driving it at the moment."
But he added: "It smells. It is unbelievably disgusting in there."
Copyright © Press Association 2014