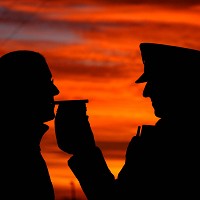 A drunk driver refused entry to an Edinburgh nightclub drove his car into the doorway of the building where the nightspot was located, police have revealed.
This man was seen driving his car into the wall of West Port's Western Bar where the doorman who refused him entry had been standing.
Not only were his actions dangerous, they could be costly too for he might find that the price of hiscar insurance premium rockets the next time he renews his policy.
This misdemeanour is just one of many police officers in Scotland have had to deal with during their annual Christmas crackdown on drink-driving
Officers have had to contend with 194 offenders in the first two weeks of their four-week initiative, which is led by the Association of Chief Police Officers in Scotland (ACPOS). Officers have also dealt with 13 people driving under the influence of drugs.
Other notable offences include the apprehension of a motorist in Glenochil in Clackmannanshire who fled the scene after their vehicle was involved in a collision with another. The culprit was eventually found and arrested with the help of a police dog.
In Alloa, a 17-year-old male was caught driving under the influence of drugs just four days after he passed his test.
Deputy Chief Constable Tom Ewing, of the ACPOS drink driving unit, said: "For a second week in our national campaign I have to report that dozens of drivers across Scotland have failed to heed the message about drink/drug driving.
"I have made it quite clear that every effort will be made by police officers and our partners in law enforcement to end this scourge.
"It is illegal, it is dangerous and it could be fatal."
Copyright Press Association 2012