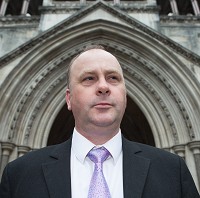 The RAC Foundation has called on the Government to "get a grip" on parking laws, after a chip shop proprietor lost a landmark case.
Essex-based Barry Beavis went to London's Court of Appeal on Thursday, April 23 in a bid to put a stop to parking charges which he claims are "ripping-off" drivers.
Mr Beavis, of Chelmsford, asked three judges to overrule an earlier County Court decision that a £85 charge he had to pay for overstaying his allotted time was lawful. The judges dismissed the 48-year-old's claim, denying that the charge was legally "unenforceable".
Reacting to the ruling, the RAC Foundation said the Government needs to tighten its stance on this generally unregulated area, rather than allow the industry to police itself. Director Stephen Glaister said: "For something that plays such a small part in drivers' lives, parking on private land generates a huge amount of anger and frustration.
"It is absurd something like this has had to come to the Court of Appeal."
The RAC contends that hundreds of thousands of motorists every year are being charged illegally . Thursday's judges ruled that the extent of Mr Beavis' charge was "not extravagant".
The case pertained to Mr Beavis being ticketed for overstaying in a 120-minute limit Chelmsford retail park two years ago. The man received a summons to appear before Chelmsford magistrates after refusing to settle. Justices there raised the fine to £150. He then took the case to the county court in Cambridge, claiming the charge was unlawful. Judge Moloney did not uphold his claim.
The firm involved, ParkingEye, said the charges represented a deterrent which was "commercially justified".
Mr Beavis, who wanted to win his case to "help motorists everywhere", said he will be taking it to the Supreme Court's justices. He spoke afterwards of his "absolute" fury at the decision.
RAC Foundation director Stephen Glaister added: "It is deeply frustrating that the case has gone against Mr Beavis, but we believe the days of sky-high charges and business models that incentivise firms to issue tickets like confetti no matter how minor the misdemeanour are numbered.
"The outgoing coalition Government took action on making parking on public land fairer and last month launched a consultation on how to do the same on private land.
"Ministers must take a grip of this essentially unregulated area. It should not be up to the industry to self-regulate and there needs to be a fair and reasonable code of practice set up by government."
Copyright Press Association 2015