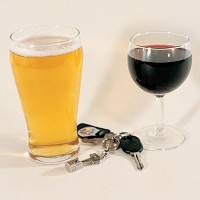 A motorist was allegedly five times over the alcohol limit when he was caught behind the wheel during a crackdown on drink-driving, police have said.
The summer drink/drug-driving campaign was in its final week when the 29-year-old driver was stopped in Dundee.
During the campaign, 30 drink-drivers and one drug-driver - a 36-year-old man arrested after a collision on the A9 in Perthshire - were caught by Tayside Police.
The figures suggest the problem spans generations, with a third of those caught 25 or under, and two-thirds between 26 and 55.
Chief Inspector Sandy Bowman, head of road policing, said: "I am sure that everyone shares our revulsion at the very notion that someone would drive on our roads while more than five times the legal drink-drive limit.
"There is absolutely no possibility that they could have been in a fit state to drive a vehicle.
"While this was an extreme example, many of those drivers detected may have got behind the wheel of a car and chanced it - whether in the mistaken belief that they were under the legal limit to drive, or that they would not be caught."
Copyright © Press Association 2009