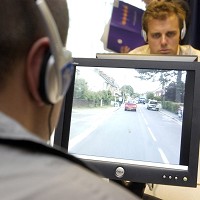 As theories go, learning the principles of safe motoring can be tough but it's hardly Einstein's Theory of Relativity.
Try telling that to the 28-year-old Londoner who could now earn their dubious place in the Guinness Book of Records by failing their car theory test 107 times and counting.
The wannabe motorist, who understandably is not being named, has so far spent £3,317 trying to pass before they can even allowed to have a crack at the practical exam.
The theory test includes a 57-minute multiple choice paper where 43 out of 50 questions must be answered correctly and a hazard perception test which needs a pass mark of 44 out of 75.
If they do ever pass the theory test, the next record in their sights could be the 36th successive failed on-road tests by a 40-year-old unnamed Stoke-on-Trent man.
He spent £2,294 in the process before finally getting his test certificate and the right to fill in his qualified-drivercar insurance forms on the 37th attempt.
A driving school spokesman said it was important to remember that everyone learnt at their own pace.
Copyright Press Association 2013