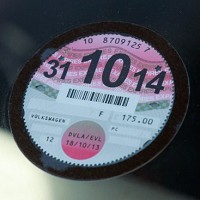 More and more drivers are getting their vehicles impounded or clamped due to lack of knowledge about the new tax disc system.
The electronic system has been in force since replacing the 93-year-old paper one last October. It means that drivers no longer have to display their paper disc on their car's inner windscreen.
But the new figures suggest that motorists are getting caught out by the new system and the Driving and Vehicle Licensing Agency (DVLA) has called on drivers to check their car's tax status via its website.
The amount of cars being towed away or clamped has risen by around 45% to an average of over 8,000 per month, compared to 5,500 with the old paper system. This figure peaked at 10,554 three months ago.
Many drivers do not know that if they are buying a car , the outstanding tax left on a second-hand vehicle does not automatically come with it, as it did previously.
This is the case even if there are many months' tax left on it. Offenders face £80 fines going up to £1,000 in the event of the case going to court.
The latest figures endorse those released in May which showed that the DVLA clamped more than 25,000 cars from January to March. This was an extra 3,000 per month compared to the same quarter the previous year.
It was reported in May that a 13-year-old Somerset schoolboy is trying to help drivers overcome their confusion now that road tax gets cancelled on a car the moment it gets sold. Taunton-based Harvey Millington received 400 orders over just one week for his special car tax reminder service.
Drivers have been offered direct debit options since the new e-system was introduced and the DVLA has sent out reminder letters.
The Agency is calling on drivers to check their vehicle's tax status online. Drivers can access the information by simply entering their car's registration number and make.
Copyright Press Association 2015