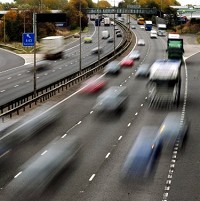 A driver pulled over onto the hard shoulder of a motorway to ring round for car insurance quotes after realising his current policy has lapsed, it has been revealed.
The Highways Agency HA released details of some of the reasons motorists have stopped on motorway hard shoulders in a bid to highlight that they should only be used for emergencies.
Some motorists have decided to take a nap on the hard shoulders, while others have stopped to pick flowers or take photographs.
The HA have also come across parents feeding children and people taking comfort breaks.
In 2012 there were 8,655 cases of drivers stopping on hard shoulders in non-emergency situations, according to official figures.
Yesterday the HA and the Central Motorway Police Group in the Midlands launched a campaign to stop the misuse of the hard shoulder on the M6 and M42.
These particular roads allow for the hard shoulder to be driven on at peak times but many people misuse them.
As part of the safety drive, anyone caught misusing the hard should will initially receive a letter from the police and the HA, along with an educational leaflet clearly explaining the correct use of the hard shoulder. However they could also be liable for a fine and points on their licence.
Copyright Press Association 2013