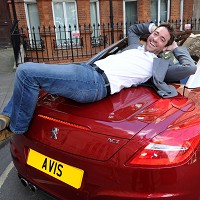 Men should roll up in a flash car if they want to impress a woman on a first date, a new study suggests.
Just under two in five (39%) women say picking them up in a posh motor makes a good first impression, according to the Avis research, while the views that it makes men stand out from the crowd and display instant sex appeal are shared by 12% and 8% of women respectively.
Being driven to a date James Bond-style in an Aston Martin turns on 20% of females, the study found, with others preferring Lamborghini (11%), Porsche (10%), Ferrari (9%) and Mercedes-Benz (8%). It seems men don't think they actually have to own expensive cars to score success, as one in 10 would be willing to hire one and even put a picture of themselves stood next to a sports car on their online dating profile. It is thought that men trying to make that all-important first impression have contributed to a 409% lift in premium car rentals in the last two years and more than a third of women (36%) said picking them up in a high-end motor would suggest that they were well-off.
Whatever the car, giving it a good clean and buying a decent air freshener is a must, as more than three quarters of females (78%) said they would be put off by bad smells and 43% indicated they would not be impressed by distasteful modifications. Around a fifth of ladies say poor music taste and comedy air fresheners are likely to causebreakdowns of relationships before they have even begun.
What women want is a jaw-dropping arrival, according to relationship psychologist Jo Hemmings. She said the combination of being driven in a classy car and enjoying a date with a "down-to-earth" man is hard to resist.
Copyright Press Association 2013