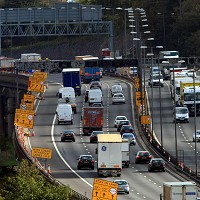 The Highways Agency has released frightening film footage of what can happen when drivers fail to slow down or pay attention while driving through roadworks.
An overturning lorry and a truck slamming into the back of a car in front are among the incidents captured by cameras trained on roadworks on motorways and A roads.
It is being used to back up the need for drivers to take extra care in roadwork areas and warns: "Saving a few seconds on your journey is simply not worth it."
The overturned lorry was caused by a car undertaking and emerging into its path, while the driver of the truck that ploughed into the back of the car had failed to spot slowing traffic ahead of him.
The Government's Roads Minister, Robert Goodwill, said workers carrying out road repairs should be able to do it in safety and drivers looking to shave a few seconds from their journeys are causing accidents that result in breakdowns and delays for other motorists and in the worst cases, resulting in serious injuries and loss of life.
Copyright Press Association 2013