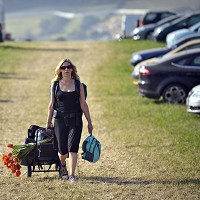 With the summer festival season in full swing, The Institute of Advanced Motorists (IAM) and Britain's top advanced driver, Peter Rodger are offering some tips on how to ensure a hassle-free journey to your site.
First of all, it sounds simple, but plan your route before you set off. If you know your route in advance you'll cut down on stress and limit the chance of getting lost on the way, meaning more time to get the tent up.
Don't overload your vehicle, after all you're not going to a fashion show and it's not worth obstructing your view and doubling your fuel cost so that you can take your whole wardrobe.
One thing that you're certain to encounter at a festival site is a queue. Keep your eyes on the road and avoid passenger distraction so that you can keep up with the traffic. Remember your car is a potential risk at any speed.
Lock up your vehicle and put your car keys in a very secure place where you won't forget them, lose them or drop them. In a messy field full of strangers your trouser pocket simply won't cut the mustard.
Before setting off home, be aware of the morning after effect; it is all too easy to start driving back still over the limit from the night before. When you're tired from a busy weekend this could well end badly.
The best piece of advice about driving to a festival, according to Peter Rodger, is "quite simply, don't".
"The drive there will involve a lot of waiting, it's likely you'll struggle to find a parking space, and even the least forgetful of partygoers risks losing their car keys. If you do decide that driving works best for you though, prepare yourself and your vehicle, and then you'll be able to do what you're going for - enjoy your festival weekender."
Copyright Press Association 2014