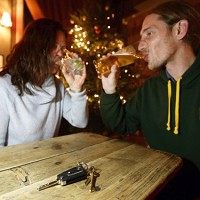 Hundreds of thousands of young drivers have taken to the road after drinking too much, the results of a new survey carried out for the RAC suggest.
The motoring organisation says with younger motorists the most likely to be involved in serious road accidents, the survey's findings are "extremely worrying".
One in four (26%) drivers aged between 17 and 24 say they either know or suspect they have driven while over the legal alcohol limit.
The proportion equates to well over 700,000 qualified drivers. Among drivers of all ages 19% admit they have probably driven while over the limit.
According to the RAC Report on Motoring 2015, one in 12 (8%) young drivers say they are sure they have driven after drinking too much, a rise of 3% compared to 2014. Another 18% - 2% more than last year - suspect they may have done so.
More than one in eight (13%) younger drivers - 5% more than in 2014 - meanwhile, say they have been a passenger in a car driven by someone they thought was over the limit.
The survey also suggests that young drivers are the most likely to get behind the wheel while under the influence of drugs.
David Bizley, the RAC's chief engineer, says: "Official figures show younger drivers are more likely to be involved in serious road-traffic accidents so it is extremely worrying to see an increase in both the number of 17 to 24-year-olds admitting to driving under the influence of drink and illicit drugs in the last year and also in those saying they have been a passenger in a car driven by someone over the limit."
He says the RAC is urging the Government to prioritise proposals for improving road safety among younger drivers.
Mr Bizley says solutions could include a graduated licensing system, improved education and information and the use of telematics.
Copyright Press Association 2015. Motoring News articles do not reflect the RAC's views unless clearly stated.